New listings in following categories: Vintage Nudist Mags, Adult Glossy Photo Mags, Later Greenleaf Adult Book titles, 1960s Adult Mags, Swedish Erotica Mags, Uschi Digart, 1970s Mags, Eric Stanton Illustration, Ed Wood Sleaze, Dr. Guenter Klow books, House of Lords books, Liverpool Library Press,, 1960s Mags, Surrey Adult Books, Clyde Allison Books, Dirty Movies Adult Loops, Pendulum Erotica Specials!, Vintage Kink magazines, Parliament Magazines, Dansk Blue books, Sex Brutality, Vintage 8mm Mail Order catalogues, Early Greenleaf Books, Bill Ward Command books, Vintage Spanking titles, Various Star Dist. bookline books, PEC Pompeii Press, Star Special Collection books, Paul Little's Harding File books, Novel Books Sleaze, PEC Books Sleaze, Chelsea and Windsor Library Press books, Montmartre Press, Bilbrew books and mags, Eros-Goldstripe Bizarre Books, House of Milan books, Risque Novelties, Documentary Classics, Eros-Goldstripe Misc Series, gay sleaze/erotica, Female Prisoner Series Books, CWS Books, SEKA magazines, and Hilbarth Tortura books

,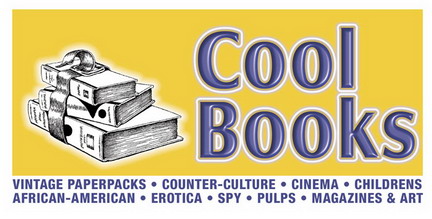 A Cool Books Site
Send Comments to: Booksmith@vintagesleaze.com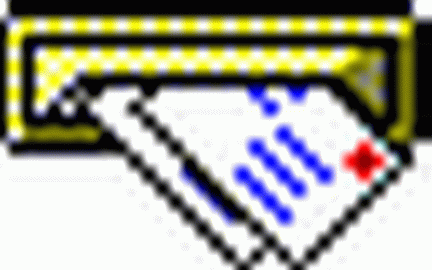 ---
Always a
7-day Money-back guarantee!

Best New Online Adult Bookstore

---
Ask About ~
The Frequent Buyer Discount!!
Inquire!
---
---

How to Search the VintageSleaze Website?
While we get our search engine tuned up, you're encouraged to browse by these categories -- books, magazines, authors, artists, themes, models, reference, comics, illustration, art, etc! All are linked at the top of every page (look above!)

Long Live Freedom of Speech!


This site is intended to be the kind where you can visit, wander and not emerge for days, drifting from category to category unearthing strings of unexpected biblio-treasures. Perhaps an author, a book, publishing company or model you didn't know about, or a compelling image you hadn't seen before (or in many years), will spark your curiousity and send you scuttling down another alleyway. Like many of you, I've long been curious about where this stuff comes from. The dramatic stories of the adult publishing world sometimes prove as entertaining as its productions. So, I hope to provide background information here as well as a showcase for the books, magazines, and various publications themselves. So, let us embark together on a journey into the mysterious world of vintage sleaze. Our companions will be authors of some varying degrees of genius, artists of fantastic imagination, and men and women endowed with super-charged sensuality and physically bountiful blessings. No better bedfellows can I imagine to enjoin with as we set out upon our journey! In the words of Terry Southern:


Now, Dig This!

--The Booksmith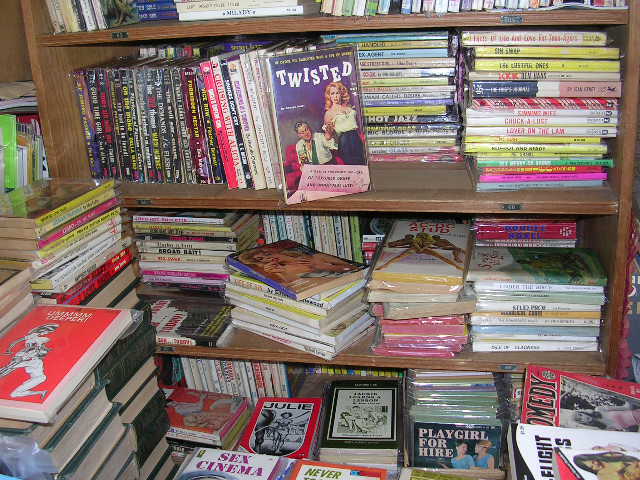 ---
Explore the World of Pop-Erotica!
They call ours a "throw-away culture" and indeed nothing gets thrown away with quite the frequency as does
erotica.
Several times in my life, I have accidentally stumbled upon suitcases full of "smut" that someone had anonymously but carefully abandoned -- perhaps knowing that someone (like me and you!) would appreciate it. So, consider this site your very own suitcase full of cast-aside erotic treasure. It is here for all who wish to collect, exchange and "meditate upon" the pleasure publications of the 20th century. Vintage Sleaze.com embraces the innocent flowering of adult entertainment from the 1930s all the way through to the 1990s --
books,
magazines,
films,
posters,
videos,
mementos, art and artifacts.
Pop-erotica, I call it. Witness herein the full force of 20th century mass-marketing brought to bear on ... SEX.
Come on in...
---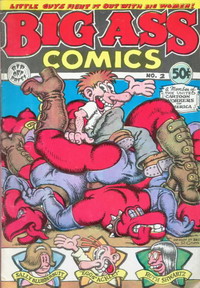 Comics
---
---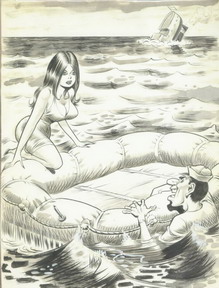 ---
Dirty Movies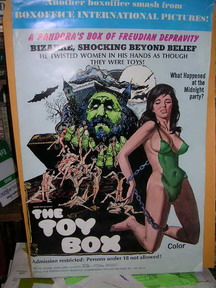 ---
Striptease
---
---